Sud de France, a wine mosaic from Occitanie
The number of AOC wines is expanding and the PGI territories are excellent complementary areas where the producers are free to express themselves.
The Occitania Region encourages the development of an approach which focuses on preserving the environment (sustainable agriculture, biodiversity, maintenance and protection of the historic landscapes and buildings) and supporting quality and excellence.
The AOC label (AOP/PDO for Europe) guarantees that the wine originates from a specific local "terroir" and its typical features are based on the particular characteristics of this local "terroir".
An AOC wine from the region is the outcome of complex interactions between the geophysical environment and the know-how of the wine producers. This is why it is unique.
PGI wines are produced on protected territories with a recognized reputation.
From the Rhône Valley to the South west, today you can find 32 IGP et 55 AOC in Occitanie.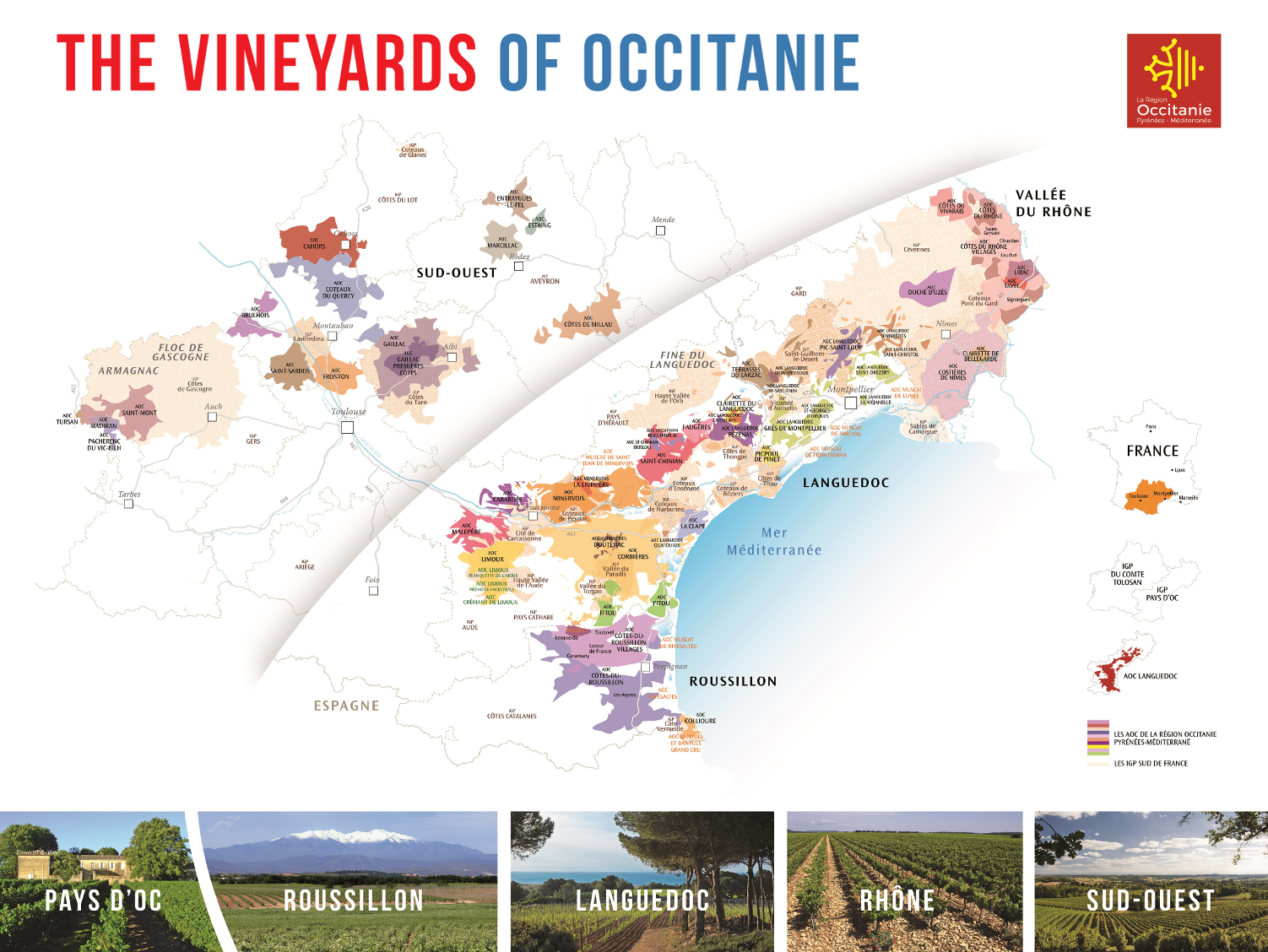 Download this map in high definition
A little history
Thanks to its coastal location, Languedoc-Roussillon is one of France's most ancient wine making regions. The Greeks founded colonies here in 6 BC and were the first to plant grape vines; subsequently settled by the Romans, the region continued to nurture the vines that were an essential part of their civilization. The Roman architectural legacy is all around – Nîmes, Agde and Narbonne are prime examples – and ever since, wine growing has been inseparably linked to Languedoc-Roussillon's identity.
The construction of railway lines between southern and northern France enhanced production levels to soar, with some 420,000 hectares of land under vines at one point, but a dramatic decline in wine consumption in the second half of the 20th century resulted in serious overproduction issues.
Today, the region produces an extensive range of world-class wines, thanks to its clement climate, excellent terroir, a policy of replacing and replanting grape varieties, and the sustained efforts of a growing number of dedicated vignerons committed to making wines of outstanding quality.